Optical data¶
Implemented optical satellites¶
| Satellites | Class | Product Types | Use archive | Default Resolution |
| --- | --- | --- | --- | --- |
| Sentinel-2 | | L1C & L2A | ✅ | 20m |
| Sentinel-2 Theia | | L2A | ✅ | 20m |
| Sentinel-3 SLSTR | | RBT | ✅ | 300m |
| Sentinel-3 OLCI | | EFR | ✅ | 500m |
| Landsat 8 OLCI | | Level 1 | COL1*: ❌, COL2: ✅ | 30m |
| Landsat 7 ETM | | Level 1 | COL1*: ❌, COL2: ✅ | 30m |
| Landsat 5 TM | | Level 1 | COL1*: ❌, COL2: ✅ | 30m |
| Landsat 4 TM | | Level 1 | COL1*: ❌, COL2: ✅ | 30m |
| Landsat 5 MSS | | Level 1 | COL1*: ❌, COL2: ✅ | 60m |
| Landsat 4 MSS | | Level 1 | COL1*: ❌, COL2: ✅ | 60m |
| Landsat 3 MSS | | Level 1 | COL1*: ❌, COL2: ✅ | 60m |
| Landsat 2 MSS | | Level 1 | COL1*: ❌, COL2: ✅ | 60m |
| Landsat 1 MSS | | Level 1 | COL1*: ❌, COL2: ✅ | 60m |
| PlanetScope | | L3A & L3B | ✅ | 3m |
| Pleiades-Neo | | ORT | ✅ | 0.3 (PAN) or 1.2m (MS) |
| Pleiades | | SEN, PRJ, ORT & MOS | ✅ | 0.5 (PAN) or 2m (MS) |
| Vision-1 | | PRJ & ORTP | ✅ | 0.9 (PAN), 3.5m (MS) |
| SPOT 7 | | SEN, PRJ, ORT & MOS | ✅ | 1.5 (PAN) or 6m (MS) |
| SPOT 6 | | SEN, PRJ, ORT & MOS | ✅ | 1.5 (PAN) or 6m (MS) |
| Maxar** | | Standard & Ortho | ✅ | 0.5 (PAN) or 2m (MS) |
* Archived Landsat Collection-1 are not managed because of the tar.gz format, which is too slow to process. It is better to work on the extracted product.
** Maxar satellites: Worldview 2, 3, 4 and GeoEye-1, but other (such as WorldView-1, QuickBird…) with the same file format should be supported. The resolution can vary around the one given here.
Warning
Satellites products that cannot be used as archived have to be extracted before use.
The goal of EOReader is to implement every sensor that can be used in the Copernicus Emergency Management Service. The sensors that can be used during CEMS activations are (as of 09/2021):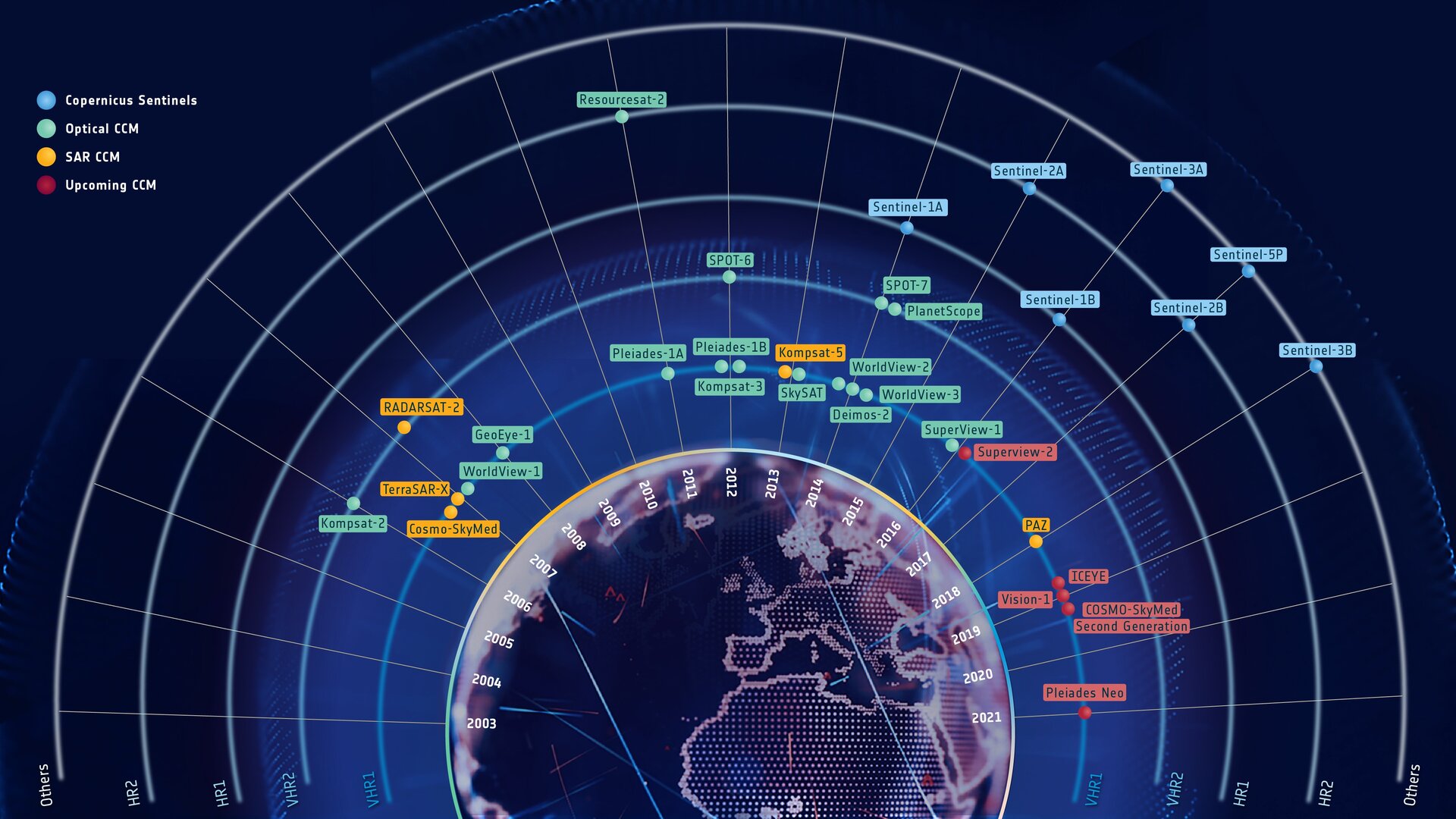 Optical bands¶
The following bands are available in EOReader, but may not be available for all sensors.
Warning
EOReader loads bands in UTM. VHR bands can be orthorectified but EOReader needs a DEM for that. Be sure to position the environment variable EOREADER_DEM_PATH to the DEM you want.
Satellite bands¶
Note
Optical bands are always loaded in reflectance. For Sentinel-3 SLSTR, radiances are converted to reflectance, expcept for brilliance temperature bands that are left as is.
These bands will be cleaned according to the user's needs. By default, only the pixels outside the detectors footprints are set to nodata. Methods to clean optical bands are best described here.
Band names¶
These bands are mainly based on Sentinel-2 bands. The names are the ones from Sentinel-2, even if sometimes it can be confusing (especially for Coastal Aerosol and SWIR Cirrus bands).
Some additions to the Sentinel-2 bands have been made (YELLOW, PAN…):
Note
Note that bands that are not mapped can still be used (i.e. for Sentinel-3 OLCI and SLSTR). They will be called by their true name (i.e. F1 or Oa05). However, the mapped band will have to be called with their mapped name, i.e. BLUE rather than Oa04 for Sentinel-3 OLCI. But the bands that are not present in the alias file won't be recognized.
Optical band mapping between sensors¶
Bands (names)

Coastal aerosol

Blue

Green

Yellow

Red

Vegetation red edge

Vegetation red edge

Vegetation red edge

NIR

Narrow NIR

Water vapor

SWIR – Cirrus

SWIR

SWIR

Panchromatic

Thermal IR

Thermal IR

Bands (alias)

CA

BLUE

GREEN

YELLOW

RED

VRE_1

VRE_2

VRE_3

NIR

NARROW_NIR

WV

SWIR_CIRRUS

SWIR_1

SWIR_2

PAN

TIR_1

TIR_2

Sentinel-2

1 (60m)

2 (10m)

3 (10m)

4 (10m)

5 (20m)

6 (20m)

7 (20m)

8 (10m)

8A (20m)

9 (60m)

10 (60m)

11 (20m)

12 (20m)

Sentinel-2 Theia

Not available

2 (10m)

3 (10m)

4 (10m)

5 (20m)

6 (20m)

7 (20m)

8 (10m)

8A (20m)

Not available

10 (60m)

11 (20m)

12 (20m)

Sentinel-3 OLCI*

2 (300m)

3 (300m)

6 (300m)

7 (300m)

8 (300m)

11 (300m)

12 (300m)

16 (300m)

17 (300m)

17 (300m)

20 (300m)

Sentinel-3 SLSTR*

1 (500m)

2 (500m)

3 (500m)

3 (500m)

4 (500m)

5 (500m)

6 (500m)

8 (1km)

9 (1km)

Landsat OLCI (8)

1 (30m)

2 (30m)

3 (30m)

4 (30m)

5 (30m)

5 (30m)

9 (30m)

6 (30m)

7 (30m)

8 (15m)

10 (100m)

11 (100m)

Landsat ETM (7)

1 (30m)

2 (30m)

3 (30m)

4 (30m)

4 (30m)

5 (30m)

7 (30m)

8 (15m)

6 (60m)

6 (60m)

Landsat TM (5-4)

1 (30m)

2 (30m)

3 (30m)

4(30m)

4 (30m)

5 (30m)

7 (30m)

6 (120m)

6 (120m)

Landsat MSS (5-4)

1 (60m)

2 (60m)

3 (60m)

3 (60m)

3 (60m)

4 (60m)

4 (60m)

Landsat MSS (1-3)

4 (60m)

5 (60m)

6 (60m)

6 (60m)

6 (60m)

7 (60m)

7 (60m)

8 (240m)
only for L3

8 (240m)
only for L3

PlanetScope (4 band)

1 (3m)

2 (3m)

3 (3m)

4 (3m)

4 (3m)

PlanetScope (5 band)

1 (3m)

2 (3m)

3 (3m)

4 (3m)

5 (3m)

5 (3m)

Pleiades

3 (0.5/2m)

2 (0.5/2m)

1 (0.5/2m)

4 (0.5/2m)

4 (0.5/2m)

1 (0.5m)

Pleiades-Neo

5 (0.3/1.2m)

3 (0.3/1.2m)

2 (0.3/1.2m)

1 (0.3/1.2m)

6 (0.3/1.2m)

6 (0.3/1.2m)

6 (0.3/1.2m)

4 (0.3/1.2m)

4 (0.3/1.2m)

1 (0.5m)

SPOT 6-7

3 (1.5/6m)

2 (1.5/6m)

1 (1.5/6m)

4 (1.5/6m)

4 (1.5/6m)

1 (0.5m)

Vision-1

1 (0.9/3.5m)

2 (0.9/3.5m)

3 (0.9/3.5m)

4 (0.9/3.5m)

4 (0.9/3.5m)

1 (0.5m)

WorldView-4, GeoEye-1

1 (0.5m/2m)

2 (0.5m/2m)

3 (0.5m/2m)

4 (0.5m/2m)

4 (0.5m/2m)

1 (0.5m)

WorldView-2/3

8 (0.5m/2m)

1 (0.5m/2m)

2 (0.5m/2m)

7 (0.5m/2m)

3 (0.5m/2m)

6 (0.5m/2m)

6 (0.5m/2m)

6 (0.5m/2m)

4 (0.5m/2m)

4 (0.5m/2m)

5 (0.5m/2m)

1 (0.5m)
* Not all bands of this sensor are mapped in EOReader. However, they can still be used by using directly their name (i.e. F1 or Oa05)